Lucia's debut album, On the way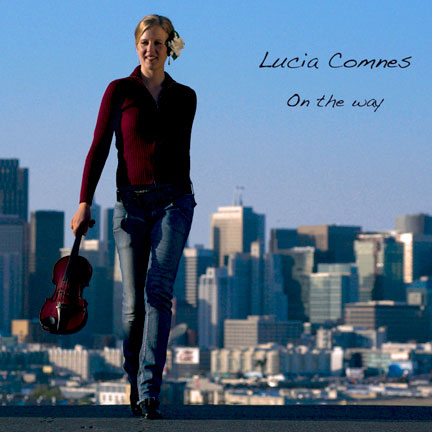 Track Samples
2. Water
An original song by Lucia Comnes

3. Gigile
An Albanian love song

6. The Lemon Seller
A satirical Turkish Roman (Gypsy) song in 9/8

7. Calling Home the Calves
A traditional song in Irish Gaelic

Little man jumps out of his seat!

On the way had a great review in the San Francisco Chronicle Datebook section.
Solas and other musical groups have done the traditional Irish folk song "Calling Home the Calves" (Aililiu Na Gamhna), but Lucia Comnes has taken it to a higher level, using her singular voice and two instruments from the Indian subcontinent – bansuri flute and shruti box – to create a goose-bumpy tableau of nature and memory. "Calling Home the Calves" is one of numerous delights on Comnes' new album, "On the Way," which takes songs from across borders – Read more…
---
Buy a copy or download it today!
Truly a world fusion project, "On the way" features Lucia Comnes and her band performing a selection of songs in seven different languages from countries including Bulgaria, Albania, Turkey, Greece and Ireland. The one original song, "Water," weaves a West African groove on the calabash with a thick bass line, melodic flute and violin conversations, and smooth three-part vocal harmonies.
Buy it NOW on CDbaby.com!
---
CD Liner Notes
Lucia Comnes – vocals, violin
Sean Stillinger – electric bass
Aharon Wheels Bolsta – bansuri flute, tabla, darbouka, cajon, calabash, kanjira, frame drum, and other various percussion
With special guests…
Dan Cantrell – accordion (3, 6)
Pat Duffey – guitar (3)
Oona Garthwaite & Veronica Perry – back-up vocals (2)
All songs traditional, except Water, composed by Lucia Comnes.
All songs arranged by Lucia Comnes, Sean Stillinger and Aharon Wheels Bolsta.
Recorded in 2007/08 at Small Treasures Studio, San Jose, CA
Recorded, mixed and mastered by John Jacob – john@smalltreasures.biz
Front photo by Ernesto Bonetti
Inside photo by Tamarind Jones
Design by Lily Storm
Produced by Lucia Comnes
www.luciacomnes.com
"Words, particularly English words, are not enough. They have been used to lie on a grand scale. They continue to be used to manipulate and confuse. Music has a purpose that remains to be seen. The potential is beyond imagination."
– Liam Ó Maonlaí
Special thanks to…
John Jacob and his family, Aharon Wheels Bolsta, Sean Stillinger, my parents – Brian and Barbara Comnes, Bruno Bowden, Lily Storm, Melton Eduardo Cartes, Dan Cantrell, Pat Duffey, Oona Garthwaite, Veronica Perry, Will Bates-Minou, Colm Ó Riain, Ernesto Bonetti, Tamarind Jones, Marco Senghor and Sogui at the Bissap Baobab, Russell Bass and Café de la Paz, Soufman, my grandparents – Hedi and Ken Cook.
To our teachers…
John Pedersen, Lily Storm, Jessaiah Zure and Bizim Mahalle, Brenna MacCrimmon, Husnu Tuzsuz, Kiriakos Petras, Merita Halili, Éilís Ní Shúilleabháin, Selim Sesler, Tzvetanka Varimezova, Kremena Stancheva, Kitka, Beth Bahia Cohen, Christos Govetas, Barry Green, Oisín Mac Diarmada, Martin Hayes, Liam Ó Maonlaí, Maestro Ashok Lal, Pandit Swapan Chaudhuri, Anna Halprin, Tatyana Kobezhikova, Angeles Arrien, and many more.
And to all those whose support makes this journey possible…
Sascha Jacobsen, Zo'la Dubnikova, Salokhiddin Fakhriev, Farzad Arjmand, Travis Wernet, Edmondo Tinetti and his film crew, Barbara Borden, Kurian Davis, Dave Buchanan, Eileen Healy and the Polskadots, Lionel Kamanda, the Cork music and dance community, the SF Irish Fest crew, Café du Nord, Niall and Isabel, Michael Stocker, Shira Cion, Rumen Shopov, Moira Smiley, Willard Harris Jr, Hildegard Wiedemann, Sainkho Namtchylak, Theater Skazka, Loïc LeGland, Elizabeth Samet, Nihit Saxena, Sheila Kappeler, Catherine Valentine and Loren Jones, Samia Abou-Samra, Joshua Levy, Kyla & Jack, Dominic MacCormack, my students, my ancestors and all who came before, and to the great mystery of the universe… in gratitude, in beauty.
This album is to dedicated to all those who have felt homelessness or displacement.
Track List
Deljo the Haiduk – Bulgarian

4:13

Water – comp. Lucia Comnes

6:01

Gigile – Albanian

3:15

The Anatolian Butterfly – Irish/Armenian/Turkish

5:21

Dawn Breaks – Greek

4:21

The Lemon Seller – Turkish Rom

4:28

Calling Home the Calves – Irish

5:00

Çayeli – Turkish

4:28

Castletown Medley – Irish

5:06

I Dreamt You Returned – Bulgarian Rom

4:30

Çiftetelli – Turkish

6:18
Total time 53:36
© & ℗ 2008 Lucia Comnes. All rights reserved.
File under World
---
Lyrics
1. Deljo the Haiduk – Bulgarian (4:13)
Bulgarian name = "Izlel e Deljo Haidutin"
From the Rhodope Mountains in Bulgaria, a well-known song recorded first by Valya Balkanska.
This song is traditionally accompanied by a gaida (Bulgarian, goat-skin, bagpipe). In our arrangement of this song, we laid a motown groove as a bed for the soulful wailing melody. This was one of the first songs that really brought us together as a band for this project.
Излел е Дельо хайдутин,
хайдутин енкесаджие,
с Думбовци и с Караджовци.
Зарочал Дельо, пурочал
даридерскимнем айене,
айене кабадайлие.
-В селоно имам две лели,
да ми ги не потурчите,
да ми ги ни почорните.
Transliteration:
Izlel e delyo haidutin
Haidutin en kesadjies
Dumbovtsi I s'karadjovtsi
Zarochal delyo purochal
Darider skimnem aene
Aene kabadaylie
F'selono imam dve leli
// Da mi gin e poturchite //
Translation:
Delyo, the bandit/freedom fighter, took, the bandit, the balls-cutter, with the Doumbovs and the Karasjovs.
Delyo commanded, ordered to the Turkish notables from Val-de-millet, to the Turkish notables, to the braggarts.
In the village, I have two aunts, do not Turkishize them, do not darken them!
2. Water – composed by Lucia Comnes (6:01)
When I was in Bolivia in 2000, the people were charged a tax on rainwater they collected from the sky. I composed this song to bring people's attention to water. It is important to know where our water comes from. It is vital that we take great care with our water sources and supply for the coming generations depend on this. If we do not protect our water as a public resource there is a great chance that water rights will fall into the hands of private corporations which in turn may be the cause of future wars, as oil is today. We still have time to weave a different story for water and I hope we do.
Dew
Left by the night
Vanishes
Dawn breaks to day
Sweat
On your brow
Under the sun
Only salt remains
Chorus:
// Wa-a-te-er //
// A yia yia yia yia yia //
Tear falls
From one who cannot cry
No way to buy
Rain from the sky
A spring
From deep within
That which fills our wells
Who can own, who can sell?
Chorus
Private are the rights
To land, to oil
Who is next
To fall?
3. Gigile – Albanian (3:15)
Albanian name = "Xhyxhyle e Malit"
This is a song from Berat, South/Central Albania, that celebrates the joyous side of love. I learned this song from my friend and teacher, Merita Halili
// O Xhyxhyle, Xhyxhyle,
Xhyxhyle e malit-e. //
// O kam sevda, kam sevda,
kam sevdan' e djalit-e. //
// O Xhyxhyle, Xhyxhyle,
Xhyxhyle e fushës-e. //
// O kam sevda, kam sevda,
kam sevdan' e çupës-e. //
Translation:
O Xhyxhyle,
Xhyxhyle of the mountain.
I have the love of a young man.
O Xhyxhyle,
Xhyxhyle of the field.
I have the love of a young woman.
4. The Anatolian Butterfly – Irish/Armenian/Turkish (5:21)
This arrangement is a combination of 2 songs. The first is a well known Irish slip jig called "The Butterfly" and the second is a song from Eastern Turkey called "Iğdır'ın Al Elması" or "Anadolu Kelebeği" which is an Armenian melody with Turkish lyrics, a love song.
"Anatolia" is an ancient term that refers to the geographic region bounded by the Black Sea to the north, the Mediterranean Sea to the south, the Aegean Sea to the west, and the bulk of the Asian mainland to the east. To further bring these songs together, we adjusted the rhythm of "The Butterfly" to match the rhythm of "Iğdır'ın Al Elması" which is in a meter of 10. But we kept a bit of the original flavor, and you will hear the rhythm jump back and forth during the beginning of the tune.
I learned the lyrics of this song from Brenna MacCrimmon in 2006.
Iğdır'ın Al Elması
// Iğdır'ın al elması, ay balam
Yemeye bal eması //
Yar gelenden sonar
Yaramın sağalması, ölürem…
Chorus:// Ölürem yar, garibem yar, sevirem yar… //
// Iğdır'dan elma aldım, ay balam
Yarimi yola saldım //
Yar gidenden sonar
Ayva gibi sarardım, ölürem…
Chorus
// Derya'da deryalıklar, ay balam
Suda oynar balıklar //
Ne bu sevda olaydı
Ne de bu ayrılıklar, ölürem…
Chorus
Translation:
Iğdır's (a place in Turkey) red apple, my belovedSweet like honey to eatAfter my beloved comes, my wound is healed, I'm dying…
Chorus:
I'm dying my love, I'm alone/foreign/lost, I love you my beloved
I got an apple from Iğdır, my beloved
I sent my beloved away (on the road)
After my beloved has gone, I am as pale as a quince, I'm dying…
Derya (could be a man or woman's name), or Ocean/sea, the bubbliness of her, my beloved
Fish are playing in the water
Oh that I didn't feel this unrequited love/separation/loneliness/longing, I'm dying…
5. Dawn Breaks – Greek (4:21)
Greek name – "Mera Merose"
This is one of my favorite of all Greek songs. I learned this song from my dear friend and teacher, Lily Storm.
Mera merose
Tora i avgi karazi
Tora ta poulia
Tora ta poulia
Tora ta helidonia
Tora kelaidoun
Tora kelaidoun
Tora laloun ke lene
Ksipna 'fendi mou
Translation:
Dawn breaks,
the birds rejoice,
now the little birds.
The little birds,
now the swallows,
now they sing.
Now they sing,
they sing and say,
awake, my friend.
6. The Lemon Seller – Turkish Rom (4:28)
Turkish name = "Limoncu" or "Limon Satıcısı"
"Rom" or "Roma" is the politically correct reference to what the people all over the world more commonly called "Gypsy".
This is a well-known song throughout Turkey and one of my personal favorites. Playful and very funny, the song is set over a thick 9-meter groove, which is the preferred way the Turkish Rom get down…
Oynamaya geldim, oynamaya
Düğünlerade, göbek atmaya
Limoncu deraler adima, adima
Kimse de gelemez yanma
// Aylana gazoz, Baylana limon //
Bas örtüyü belime, bağladm
Herkesi kendime, bakrdm
Translation:
I've come to dance (throw the belly) at weddings
They call me the lemon seller/maker, nobody will come near me
If you want to sober/wake someone – give them a gazoz
If they faint, give them a lemon
I've tied my headscarf around my waist
I'm making everyone look at me
7. Calling Home the Calves – Irish (5:00)
Irish Gaelic name = Aililiú Na Gamhna
A gorgeous song in Irish Gaelic that is sung in the old-style or sean-nos tradition. I learned this song from Éilís Ní Shúilleabháin in Cork, 2005.
'S iníon d'aoire mé féinig gan amhras
A bhíodh 'na chónaí cois taobh na Leamhna
Bhí bothán agam féin ann is fuinneog i gceann de
'S fhaid bhíodh an bainne (a) té(amh) agam
Sea ghlaoinn ar na gamhna
Curfa (chorus):
Aililiú na gamhna, na gamhna bána
Aililiú na gamhna, na gamhna b'iad a bfhearr liom
Aililiú na gamhna, na gamhna geala bána
Na gamhna maidin shamhraidh a' damhsa ar na bánta
Faightear dom canna is faightear dom buarach
Is faightear dom soitheach 'na gcuiread mo chuid uachtair
Ceolta sí na cruinne bheith dá síor-chur im chluasa
Ba bhinne liomsa géimneach na mbó a teacht chun buaile
Raghaimíd ar an aonach is ceannóimíd gamhna
Is cuirfimid ar féar iad amach ins na gleannta
Íosfaidh siad an féar agus barr an aitinn ghallda
Is tiocfaidh said abhaile chun an bhainne i gcóir a' tsamhraidh
Translation:
I am the daughter of a shepherd
who used to live on the banks of the Laune River, Kerry
I had a little hut with a window on the side of the house/gable end
And while the milk was being warmed (for the youngest calves)
I would call the calves
Chorus:
Behold the calves, the white calves
Behold the calves, the calves were my favorite
Behold the calves, the bright white calves
The calves on a summer's morning, dancing in the fields
Get for me a can, a spancel
Get me a vessel in which to put my cream
If I were always listening to sweet music/If the fairy music of the world were always in my ears
I would prefer to hear the lowing of the calves, coming home to be milked
We will go to the market, we will buy calves
We will put them out to eat grass in the glenns
They will eat the grass and the top of the (English) gorse bush
They will come home for their milk during the summer
8. Çayeli – Turkish (4:28)
"Çayeli" is the name of a town in the Eastern Black Sea near Rize, Turkey. I learned this song from Brenna MacCrimmon.
Çayelinden öteye
// Gidelum yali yali //
Srtndaki sepetun
// Ben olayim hamali//
Sepetunun ipleri
// Keseyi omuzuni //
Aç beyaz pestemali
// Bi' göreyum yüzuni //
Karl dereden beri
// Yesl çay bahçeleri //
Çay filizi toplayi
// Pestemali kzlari //
Translation:
From beyond Chayele, let us go to the summer places
Let me be the porter to carry the basket on your back
The straps dig into my shoulders
From the weight of harvested tea leaves
Open up your white head cloth
So that I may see your face
Beside the stream running through the green tea fields
Where girls with white head scarves gather young green buds
9. Castletown Medley – Irish (5:06)
Irish tune names = Castletown Connors (jig) / Banish Misfortune (jig) / The Morning Dew (reel)
A medley of traditional Irish tunes, we added the Indian Tabla to the mix…
10. I Dreamt You Returned – Bulgarian Rom (4:30)
Romanes name = "Sono Dikhljum"
I learned this song when I was working with the Turkish music and dance ensemble, Bizim Mahalle in 2005. As sung by Katja Safedimova, with accompaniment by Anzelo Malikov, on BHM 3423. Text and translation by Carol Silverman and Victor Friedman.
Sono dikhljum iringjan
Angali man tu dinjan
Džangaliljum kali rat
Me vogeste pharo bar
Chorus:
Do čavensa korkori
Me sem devla čorori
Ah, me sem devla čorori
Do čavensa terni daj
Sar nanaj tut mange žal
Tu devlestar nanaj dar
Toro vogi šudro bar
Chorus
Translation:
I dreamt a dream that you returned
You held me (You gave me a hug)
I woke up in the dark night
On my heart was a heavy stone
Chorus:
Alone with two children
I'm poor, God
A young mother with two children
How can you not pity me
You have no fear of God
Your heart is a cold stone
11. Çiftetelli – Turkish (6:18)
Turkish name = Nehavent Çiftetelli
"Çiftetelli" is a traditional rhythm for bellydancing in Greece and in Turkey. This melody belongs to the Nehavent maqam (like a scale or mode) and is a Classical Turkish composition. You will hear the instruments solo in the middle of the piece, which is called "taxim" in Turkish music. The Indian Tabla drums add a new flavor to a traditional piece.