Lucia's new album, 'Love, Hope & Tyranny'
Lucia's new album, 'Love, Hope & Tyranny' is now for sale on iTunes and Spotify.
LISTEN: Track 1 – "No Hiding Place"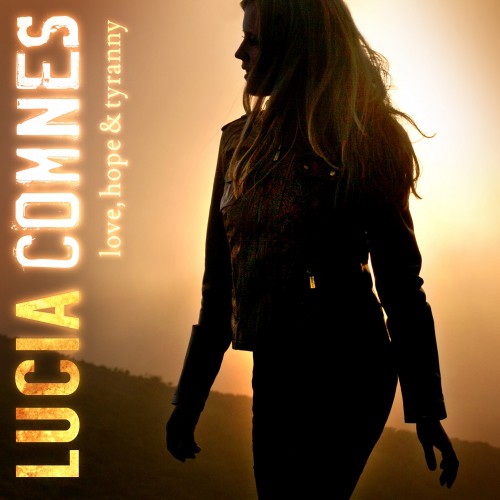 My new album, 'Love, Hope & Tyranny', was released in the UK and Europe on Monday, June 1, and in the USA on Tuesday, June 9, 2015. The album features 13 of my new original songs, was produced by Jeffrey Wood (Luka Bloom, Penelope Houston) & Gawain Mathews and recorded/mixed at Fantasy Studios in Berkeley, California. It was funded in part by many supporters via the platform PledgeMusic. A part of the albums proceeds will be donated to the STRAW Project to help kids plant thousands of trees every year.
"Lucia Comnes is a singer, songwriter, fiddler & guitarist with a 'singular voice' (SF Chronicle) and 'a powerful imagination' (C. Poling) whose atmospheric roots music crosses genres of Americana, folk, Celtic, bluegrass & alternative."
Read the latest reviews of 'Love, Hope & Tyranny' here.
Through the Dark – my EP of original songs recorded at Fantasy Studios
Click the album cover to hear the songs on the album page!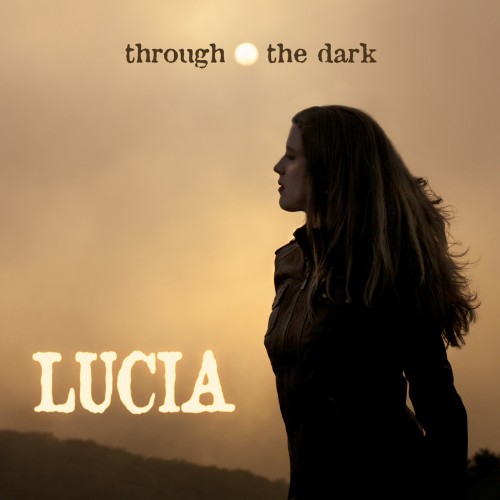 Potpourri – the single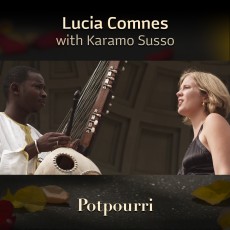 Potpourri is a unique collaboration between African and American artists and styles. The song tells the story about two lovers who are separated, but together in a dream… West African virtuoso kora (harp) meets Western violin in an Afro-Latin-Pop collaboration between African artist Karamo Susso and American artist Lucia Comnes. A mystical love song woven to life with unique, captivating and exquisite music.
Produced by Lucia Comnes (lyrics, vocals, violin) with Karamo Susso (kora), Sean Stillinger (bass) Ben Isaacs (percussion), and very special guest Tim Keiper (from Vieux Farka Toure's band) on drums. Recorded by Gawain Mathews and John Flores. September 2009
---
Lucia's Irish/Celtic album, 'Across the Wide Ocean'
LISTEN: Track 11 – "Some Tyrant"
LISTEN: Track 4 – "Beare Island Set"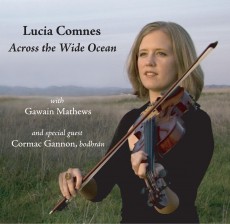 Sweet and melancholic acoustic Celtic Folk/Irish Trad with vocals, fiddle, guitar and bodhran. Simple arrangements, pure and pleasing spirit, songs in English and Irish Gaelic, mixed with instrumental jigs, reels and airs.
Produced by Lucia Comnes (voice, violin, viola, bodhrán) with Gawain Mathews (guitar, mandolin, percussion) and with special guest Cormac Gannon (bodhrán) and released in December 2009.
---
Lucia's debut album, 'On the way'
LISTEN: Track 3 – "Gigile"
LISTEN: Track 7 – "Calling Home the Calves"
LISTEN: Track 6 – "The Lemon Seller"
Truly a world fusion project, "On the way" features Lucia Comnes and her band performing a selection of songs in seven different languages from countries including Bulgaria, Albania, Turkey, Greece and Ireland. The one original song, "Water," weaves a West African groove on the calabash with a thick bass line, melodic flute and violin conversations, and smooth three-part vocal harmonies.
'On the way' Feature review in the San Francisco Chronicle:
Solas and other musical groups have done the traditional Irish folk song "Calling Home the Calves" (Aililiu Na Gamhna), but Lucia Comnes has taken it to a higher level, using her singular voice and Read more…
Buy it HERE using the links below:
---
'Violets and Roses – A collection of Songs from Eastern Europe'
A collection of Eastern European folk songs sung a cappella by Lily Storm and Lucia Comnes. Selection includes songs from Greece, Albania, Romania, Ukraine, Georgia and Bulgaria. Released in 2007.
Listen:

Track 3: Vete me the te dua (Albanian)
Available by special order only. Please email: music@luciacomnes.com to purchase. $10.00 plus shipping.