Lucia Comnes and Her Rockin' Irish Band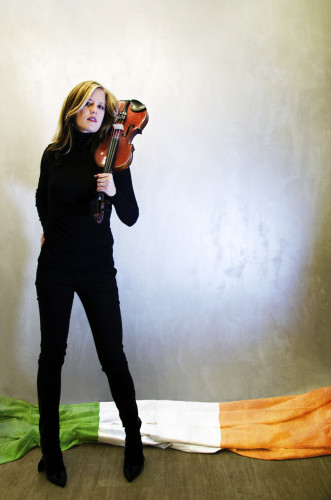 Lucia Comnes & Her Rockin' Irish Band is a five-piece folk powerhouse that combines traditional Irish music with influences from rock, americana and bluegrass to produce "a fresh and invigorating take on the Irish sound," as described by The Irish Herald.
The band's leader, Lucia Comnes, is a San Francisco-born singer-songwriter who rocks a mean fiddle and guitar, known for her contemporary interpretations of Irish, Balkan and American folk music and for her original songs, which reflect her many influences. Her song 'No Hiding Place' was recently recognized with two notable awards by the Dallas Songwriters Association in Texas. Her voice was described by the San Francisco Chronicle as "singular… embedded with soul and spirit."
Lucia is backed by the force of her gallant Rockin' Irish Band, all with Irish names to make up for the lack of any Irish trace left in her own, who are focused on delivering the band's melodious music and keeping the fires raging on the dance floor. Burke plays a mighty rhythm guitar and shreds on his harmonica between class vocals, Kyle C is a legend and a savage beast on drums, good Michael plays deadly bass lines on the acoustic and electric, and Kyle Patrick O'Brien towers above it all, keeping it sweet on the mandolin alongside Lucia's fierce crafting on the fiddle.
All banter aside, Lucia Comnes & Her Rockin' Irish band brings you the best in Irish-American music new and old, traditional and popular. They represent the next generation of crossover music coming out the San Francisco Bay Area. Lucia's background in folk music, playing at many trad festivals in Ireland, singing with the acclaimed Kitka, accompanying the American folk icon, Joan Baez, opening for Paul Brady, and collaborating regularly Liam Ó Maonlaí (Hothouse Flowers), makes her the prime candidate for leading this band.
"..Perhaps her most valuable talent is her powerful imagination. An imagination that breathes vivid imagery into the lyrics of her songs and infuses her fiddling with the spirit of the ancient tones, be they from Kilkenny, Kentucky, or Kosovo." – Chuck Poling, California Bluegrass Association
Lucia has recorded three full-length albums, and a fourth is slated for release in early 2015. 'Love, Hope & Tyranny' was recorded at Fantasy Studios in Berkeley and produced with Jeffrey Wood (Luka Bloom, Penelope Houston) and Gawain Mathews. It features 13 of Lucia's original songs and an impressive list of contributors including background vocals from the delightful T Sisters.
Watch the band's YouTube Playlist at http://www.youtube.com/playlist?list=PLBBxi14TXpa9RFNtLDOq_qHXcBx9WvDX6