---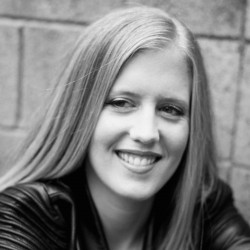 Short Artist Bio
Lucia Comnes is an American singer, songwriter, fiddler and guitarist with a 'singular voice' (SF Chronicle) whose roots music crosses genres of Americana, Folk, Irish, Bluegrass & Rock. She writes powerful melodies with forceful, earthy lyrics that reflect her connection to the elements.
Long Artist Bio
For comprehensive and well-written summaries, please refer to the following reviews:
http://innocentwords.com/lucia-comnes-love-hope-tyranny/
http://www.folkradio.co.uk/2015/05/lucia-comnes-love-hope-tyranny/
Lucia Comnes celebrates the diversity of musical cultures from around the world through her singing, songwriting, fiddling, and guitar playing. She's known for her contemporary interpretations of Irish, Balkan, and American folk music, and for her original songs, which reflect her many influences.
Her ability to seamlessly blend different styles results in music that draws from the past but is refreshingly contemporary. Lucia's fiddling is a powerful and emotional expression of her musical vision – a vision that demonstrates that she isn't afraid to take chances. Her voice, crystal clear but with a hint of mystery, was described by the San Francisco Chronicle as "singular… embedded with soul and spirit."
Perhaps her most valuable talent is her powerful imagination. An imagination that breathes vivid imagery into the lyrics of her songs and infuses her fiddling with the spirit of the ancient tones, be they from Kilkenny, Kentucky, or Kosovo.
Lucia has recorded three full-length albums, and a fourth is slated for release in early 2015. Love, Hope & Tyranny was recorded at Fantasy Studios in Berkeley and produced with Gawain Mathews and Jeffrey Wood (Luka Bloom, Penelope Houston).  It features 11 of Lucia's original songs and an impressive list of contributors including background vocals from the delightful T Sisters.
She also finds time to front Lucia and Her Rockin' Irish Band, delivering new takes on the Irish sound, with hair-raising vocal harmonies, soul-shaking harmonica solos, fierce melodies on the fiddle and songs in Irish Gaelic. Driven by a powerhouse rhythm section of drums and bass, jigs and reels have never been so danceable.
As a solo performer Lucia recently accompanied Joan Baez in concert, was selected to perform 'America The Beautiful' on solo violin at the Oakland Coliseum to open the Raiders/Steelers Football game, opened for Paul Brady (an Irish legend whose songs are hits for Bonnie Raitt, Tina Turner & Cher), collaborates with Irish artist, Liam Ó Maonlaí (Hothouse Flowers) and modern dance pioneer, Anna Halprin.
Born in San Francisco, Lucia Comnes started her professional career in 2002 as a vocalist with Kitka – the Oakland-based women's a cappella vocal ensemble specializing in Balkan/Eastern European folk music. At the same time, she began delving deep into Irish music and studied with many fiddle masters (Martin Hayes, Kevin Burke, Oisín MacDiarmada) in the U.S. and Ireland. She also attended the Traditional Irish Music Program at University College, Cork, to study spoken Gaelic and sean-nos, or "old-style," singing.
Lucia attended UC Berkeley and graduated from Long Island University's Global Studies program in 2006 with a self-designed interdisciplinary degree called Music, Culture and Nature, following her research in Ireland, Greece, Turkey, and Bulgaria. An avid traveler throughout her life, Lucia has studied, visited, and performed in more than 20 countries, including remote parts of Siberia.
Along with her passion for music, Lucia has made lifelong commitment to meeting the environmental challenges of our time. In her compositions, Lucia strives to bring people back in connection with nature and with their own roots.
– Artist Bio written by Chuck Poling, California Bluegrass Association, 2014
Popular Press Quotes:
"Luminous vocalist" – San Jose Mercury News
"Ethnomusicologist songbird" – Pacific Sun
"A singular voice… otherworldly and embedded with soul and spirit…Comnes lives in San Francisco but her home is the world at large." – San Francisco Chronicle
Read Lucia's most comprehensive artist write-up and album full review here.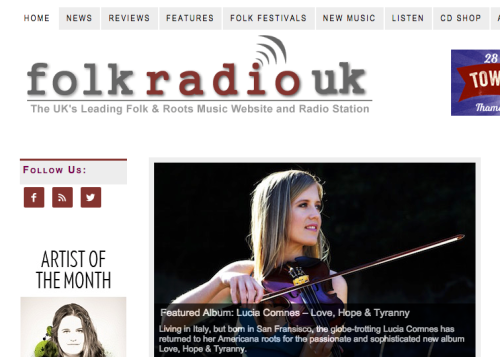 http://www.folkradio.co.uk/2015/05/lucia-comnes-love-hope-tyranny/
---
Biografia dell'artista in ITALIANO
Lucia Comnes celebra la diversità delle culture musicali provenienti da tutto il mondo. Cantautrice, violinista e chitarrista, nota per le sue interpretazioni contemporanee di musica folk irlandese, balcanica, e americana e per le sue canzoni originali che risentono delle molte influenze.
La sua capacità di integrarsi perfettamente con diversi stili si traduce in musica che attinge dal passato, ma è piacevolmente contemporanea. Lucia con il suo violino è un potente ed emotivo mezzo di espressione della sua visione musicale – una visione che dimostra che lei non ha paura di correre rischi. La sua voce, cristallina ma con un pizzico di mistero. Il Chronicle, giornale di San Francisco la descrive come "voce singolare … incorporata con anima e spirito."
Forse il suo talento più prezioso è la sua potente immaginazione, una fantasia che respira immagini vivide nei testi delle sue canzoni e che infonde il suo violino con lo spirito degli antichi suoni, siano essi provenienti da Kilkenny (Irlanda), Kentucky (USA), o dal Kosovo.
Lucia ha registrato tre albums, ed un quarto è previsto in uscita nei primi mesi del 2015, "Love, Hope & Tyranny". Quest'ultimo è stato registrato a Fantasy Studios di Berkeley e prodotto con Gawain Mathews e Jeffrey Wood (Luka Bloom, Penelope Houston). È dotato di 13 canzoni originali di Lucia e di un impressionante elenco di collaboratori tra cui cori delle deliziose T-Sisters.
Lei è anche il direttore, la voce e musicista di violin e chitarra della Lucia and Her Rockin' Irish Band, reinterpretando la musica irlandese con armonizzazioni vocali, melodie feroci con il violino, armonica, chitarra acustica, chitarra elettrica, basso, batteria e mandolino di canzoni in gaelico irlandese.
Come solista Lucia recentemente ha accompagnato Joan Baez in concerto, è stato selezionato per eseguire 'America The Beautiful' al violino solista a Oakland Coliseum per aprire la partita Raiders / Steelers Football, aperto per Paul Brady (una leggenda irlandese le cui canzoni sono risultati per Bonnie Raitt, Tina Turner e Cher), collabora con l'artista irlandese, Liam Ó Maonlaí (Hothouse Flowers) e moderno pioniere di danza, Anna Halprin.
Nata a San Francisco, Lucia Comnes iniziato la sua carriera professionale nel 2002 come membro del coro vocale femminile no-profit specializzato in musica dell'Europa dell'Est, Kitka, di fama internazionale con sede a Oakland. Allo stesso tempo, ha cominciato a scavare in profondità nella musica irlandese e studiato con molti insegnanti di violino (Martin Hayes, Kevin Burke, Oisín MacDiarmada) negli Stati Uniti e in Irlanda. Ha inoltre frequentato il programma di musica tradizionale irlandese presso l'University College Cork, e studiato la parlata gaelica e Sean-nos, o " vecchio stile ", canto.
Lucia frequentato UC Berkeley e si è laureata nel programma Global Studies di Long Island University nel 2006 con una laurea interdisciplinare auto-progettato chiamato Musica , cultura e natura, effettuando studi di ricerca in Irlanda, Grecia, Turchia e Bulgaria. Amante dei viaggi, Lucia ha studiato, ha visitato, ed eseguito performance in più di 20 paesi, comprese le parti più remote della Siberia.
---